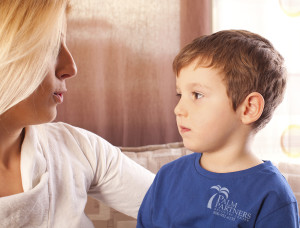 "Dad's an alcoholic." "Mommy needs to go to rehab." These are not comfortable nor are they easy conversations to have with a child, even if your child has known that there's been a problem for quite some time.
As it stands, more than 28 million children have an alcoholic parent and yet alcoholism and addiction aren't being talked about in most homes. Instead, children grow up facing a lifetime of issues that their peers are fortunate enough to not have to deal with. Children of alcoholics tend to have more emotional, behavioral and academic problems than other kids, and are four times more likely to become addicts themselves. Children of alcoholic parents are also at a greater risk of abuse and neglect, as well as have an increased chance of witnessing domestic violence and marrying an addict later in life.
And that's why it's so important to start talking about drug use and addiction to our children.
How to Explain Alcoholism to a Child
#1. Plan the Conversation
Choose the timing of your conversation carefully. In other words, don't try to have a serious conversation when your child is on their way out the door to catch the school bus, for instance. Make sure there are no distractions and the setting is a relatively calm one. It's best to explain your alcoholism when you already have your plan to go to rehab in place.
Explain that there's an issue that needs to be addressed and that you're taking steps to do so. Talk about what will change, for example, that you will be away for a little while. Repeat the conversation as often as needed so that your child feels comfortable having an ongoing dialogue.
#2. Keep It Age-Appropriate
Obviously, you want to explain addiction and rehab in terms your child can understand.Therefore the language you use and the level of detail you provide should be tailored to their age and level of maturity. Break the issues down as simply and directly as possible, and make sure to include a message of hope at the end.
#3. Be Truthful and Honest
Children have an innate ability to know when an adult is lying. So, although you'll need to use different terms (depending on your child's age), you should be honest about the problem. Explain that addiction is a disease, just like diabetes, and that it is caused by several different things, such as genetics, environment and past trauma. But just like diabetes, you are sick and in need treatment to get better.
#4. Educate Yourself
Educate yourself about the disease of addiction so that you understand it before you try to explain it to your child. This will also help prepare you for any questions they might have. If you don't know the answer, you can work on finding one together.
#5. Acknowledge the Consequences
Don't downplay your child's experiences of your alcoholism; instead, acknowledge the impact it has had and validate your child's experience. Apologize for the pain you have caused and ask open-ended questions about how they feel.
#6. Reassure Your Child
Make sure to emphasize that your addiction is not their fault: they aren't the cause nor do they have the power or control to fix the problem. This can be particularly difficult to convey, especially if you ever blamed your drinking on their behavior (i.e. Mommy has to drink in order to deal with you!) Your child needs to understand that what you said while intoxicated isn't really who you are how you feel.
#7.  Put Things Into Perspective
Children from alcoholic homes tend to idealize other families without realizing that other families have their own struggles, and maybe addiction is one of them. In fact, millions of children are from alcoholic homes. Make sure they know that they are not alone.
#8. Invite Dialogue
In order to deter secrecy, fear, and loneliness that comes with addiction, encourage you child to talk about their feelings without criticism or judgment from you.
#9. Teach the Seven Cs
According to the National Association for Children of Alcoholics, children of alcoholics need to know the "Seven Cs of Addiction":
I didn't Cause it
I can't Cure it
I can't Control it
I can Care for myself
By Communicating my feelings
Making healthy Choices
By Celebrating myself
#10. Find Additional Support
Just as you need rehab and support in order to recover, your child need to know there are resources available to help them process the information as well as their0 emotions. If they don't feel comfortable talking with you or another relative, they can reach out to a teacher, counselor, therapist, religious leader, or a support group such as Alateen.
It can be difficult having to leave your family and children for any amount of time, in order to go to rehab. But, you simply can't be the best parent to your child or partner to your spouse if you are actively drinking or using other drugs. Many parents seek treatment in the form of rehab and so there is a lot of support and resources for you as well as your children. Call toll-free 1-800-951-6135 to speak directly with an Addiction Specialist. We are available around the clock to help.