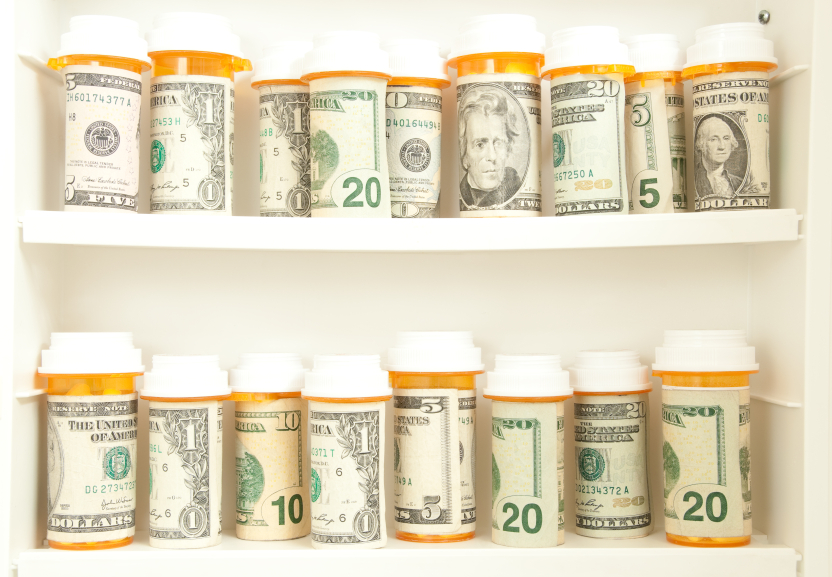 Author: Justin Mckibben
I'm no stranger to writing about the way I take offense to how the pharmaceutical industry has conducted themselves in various aspects concerning the opiate epidemic in America. Firstly, by taking offense to the fact that these companies were actively raising the prices on the overdose antidote medication Naloxone steadily as the opiate epidemic worsened… but now this next piece feels like something straight out of a dystopian Aldous Huxley future where we are pacified with ads that say,
"Pill 1 causing you problems? We promise pill 2 will make it all better. #BraveNewWorld"
For a lot of people there has been a troubling message to be found behind the guise of an ad for a new constipation medication for treating OIC or Opioid Induced Constipation. 111 million viewers specifically who were watching the Super Bowl this year saw it, which sparked a wave of back-lash and outrage.
Of course it has been quite some time since the Super Bowl, so why bring it up?
Well I keep watching TV, surprisingly, and there are other commercials just like this one with Big Pharma pushing pills that a lot of politicians and medical leaders are also seeing as a way the bullies in Big Pharma are trying to further capitalize on the opiate epidemic that has been crippling communities all over the country. It all has me thinking, shouldn't we be talking about whats wrong with this picture?
Normalizing the Poison
It has been said the greatest trick the devil ever pulled was convincing the world he didn't exist- and it would seem this is the same mindset these Big Pharma companies are adopting to make more money off of the sick and suffering. Instead of aspiring to create healthier alternatives, companies are opting to pretend the real problem with long-term dependence on opiates doesn't exist and are creating more drugs that people will come to depend on.
How do you convince people opiates aren't the problem? You normalize the poison and give them another pill like it's the answer to everything. Dr. Andrew Kolodny, executive director of Physicians for Responsible Opioid Prescribing, is one authority on the subject who spoke avidly about the distasteful way these Big Pharma ads are portraying the issue with opiate use, stating:
"It's very disturbing to see an ad like that. It's normalizing the chronic use of opioids, which aren't demonstrated to be safe over the long term."
But that's exactly what this commercial would lead you to believe- that long term dependence on opiate pain medication is a typical and healthy course for treating pain. Kolodny went on to say,
"There's no question that their ads make this very dangerous and questionable medical practice seem normal."
And what better way to convince a mass amount of people that it is OK to keep leaning on opiates than to air an ad promoting an OIC medication during one of the most watched broadcasts in America?
This kind of as is normalizing the poison to belittle the problem! The commercial might as well say,
"Hey there, we know you won't stop using opiates- that's just crazy talk! How about instead, we pump you full of more medications (at prices which will undoubtedly escalate while causing more side effects) that won't make you any healthier, won't address the fact that an estimated 28,648 people were killed by opiates in 2014, and actually deepen your dependence by exploiting it!"
Slap that delightful message between a black and white montage, or a cartoonish animation (ya know, just in case the kids are watching and need their fix) and watch profits double! Throw in a disclaimer at the end,
"May enable a debilitating dependence long enough to get you hooked on heroin."– But maybe that's taking it too far… maybe.
Because when we are talking about opiates, that list includes:
And yes, the abuse of opiates has gotten so bad that opioid pain meds were prescribed 259 million times in 2012- enough for every man, woman and child to get their own bottle of pills. Sadly, it is now 4 years later and the statistics of abuse and overdose have skyrocketed every year since! Then there are various other medications there are new synthetic opioids which are being added to the market.
Of Madness and Medication
Now to be fair, the ad from the Super Bowl was presented by AstraZeneca and Daiichi Sankyo, and neither Big Pharma company produces opioids so they aren't getting paid at both ends exactly. Together, these Big Pharma giants sell the drug Movantik as a treatment for OIC.
Now on a personal note, the fact that OIC is even such a common issue it had to be given it's own name is actually depressing the more I think about it. How many illnesses will Big Pharma try to write off as "normal" to bypass the devastation and sickness caused by their products?
Twitter Starts Talking
Shortly after the ad aired on the Super Bowl, Twitter started talking and people were not happy with the standards this kind of commercial was attempting to set. White House Chief of Staff Denis McDonough weighed took to Twitter writing:
"Next year, how about fewer ads that fuel opioid addiction and more on access to treatment."
Vermont Governor Peter Shumlin also had a few choice words for the Big Pharma propaganda, tweeting:
"Promoting drugs during #SuperBowl to help Americans take more opiates in midst of our crisis? Big PHRMA has no shame"
Shumlin's outrage is obviously understandable considering Vermont has had alarmingly high levels of opioid addiction in recent years. Shumlin was already an advocate speaking out against the epidemic, and he also put out a statement on the Thursday following the Super Bowl demanding that the commercial be yanked from the air and even pointing out the question of how these Big Pharma companies could justify spending $10 million on the 1-minute spot to pedal more drugs to a population already smothering itself in substance abuse.
Big Pharma Company Claims
What should be even more troubling is that since the commercial first aired the campaign's website has been visited nearly 40,000 times, and the ad has been streamed on YouTube more than 2 million times! So whether you agree with one side of the debate or the other, it is obvious the ad is pulling people in.
But the companies AstraZeneca and Daiichi Sankyo made claims in their official statement that the ad was aired to raise awareness, stating:
"The objective of the advertisement was to reach people with chronic pain taking a prescribed opioid treatment for long-term pain management and to encourage those who may be suffering from OIC to discuss their symptoms with their physician,"
Really? That's why you paid $10 million to air an ad? Nothing to do with the astounding response of continued views the commercial has gotten and the dollar amount of business it has probably bought you… no of course not!
Maybe AstraZeneca and Daiichi Sankyo aren't responsible for the opiate abuse epidemic, but ALL of the Big Pharma companies should be held accountable for the way they are marketing to the public in the midst of a public health crisis.
One thing is for sure, whether they intended to or not their commercial has drawn awareness to the conversation in more ways than one. I have personally spoken with several people both working in the addiction recovery field and in actual recovery themselves who are just blown away by how blatantly Big Pharma can sell ridiculous amounts of dangerous prescription narcotics and make billions, then turn around and pitch sales for the side-effects of these drugs.
There is real help out there; real solutions beyond being medicated to overcome medications. Beyond relying on substances to help treat other substances there is long-term addiction recovery in a holistic healing approach like the effective addiction treatment program at Palm Partners. If you or someone you love is struggling with substance abuse or addiction, please call toll-free 1-800-951-6135