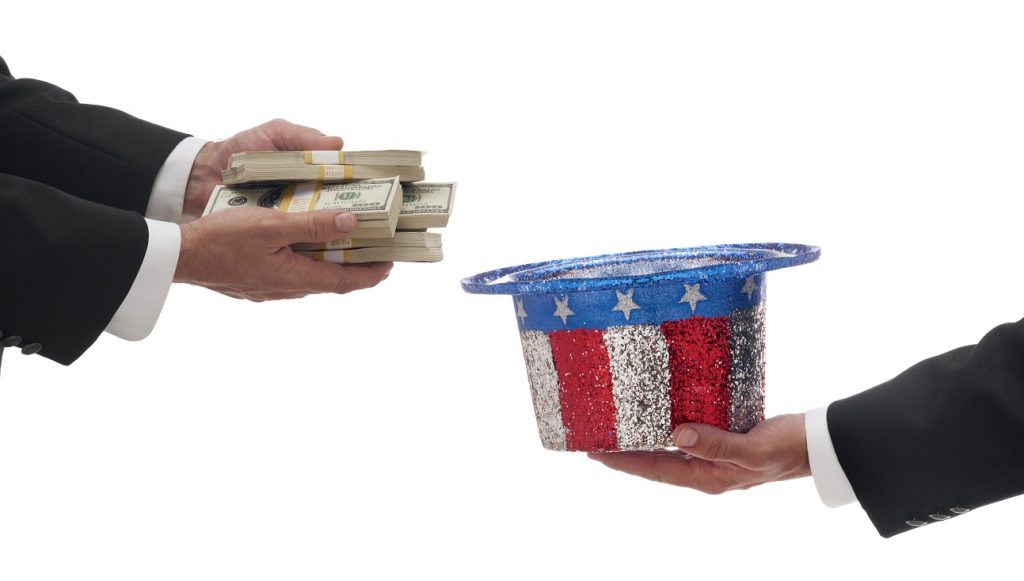 In efforts to combat the ongoing opioid crisis in America, the US House of Representatives is currently working to push through dozens of bills that many believe could help curb the rising overdose death rates and give the country a fighting chance. However, some have pointed out that Big Pharma MAT drug makers are spending millions lobbying Congress, and those same companies stand to bank big money off these new laws.
So, while we want to believe that new laws supporting Medication Assisted Treatment or "MAT" could help with harm reduction efforts, it is also good to point out that the drug companies who are positioned to benefit substantially are also those who have been racking up a lot of influence in Washington through huge donations.
In just a two week period, the House has already cleared several measures that would soon launch these MAT drug manufacturers into a sales spike.
Top MAT Drug Makers Lobbying Congress
So how much are these Big Pharma companies spending?
Alkermes
This biopharmaceutical company focusing mainly on central nervous system disease has already spent $1 million in lobbying. Part of that money went to support a bill that would fund full-service centers where people can:
This MAT drug maker is poised to cash in on this law because it could bolster the sales of anti-addiction injection Vivitrol. This is currently Alkermes best-selling product. However, the need for patients to fully detox before taking the drug is a limitation.
The aggressive marketing tactics this company is using, on top of their big budget for trying to influence Washington is already gaining them some attention. One thing that draws some of that attention is that the main focus of Alkermes lobbying was the bill presented by Representatives Brett Guthrie and Gene Green. Coincidentally, one of Alkermes main lobbyists served as Guthrie's chief of staff, and another was Green's former legislative director. Yet another example of people working in Congress making a jump to rallying government officials behind drug companies.
Guthrie and Green both reject any implication that they drafted the bill to support Alkermes. It is true that by several MAT drug makers also support their proposal.
Indivior
This UK based specialty pharmaceutical company spent $180,000 on lobbying Congress. Indivior's money went to support a bill easing restrictions on certain controlled substances used in injectable anti-opioid treatments.
Indivior rivals Vivitrol with their own product, Sublocade. This anti-addiction treatment is a once-a-month injection to fight opioid cravings. The bill they are bidding for would make it much easier for doctors to buy Sublocade for addiction treatment.
Sublocade was approved back in 2017 as an extended release buprenorphine compound. It became the first once-monthly injectable buprenorphine formulation for treating opioid use disorder (OUD).
Braeburn Pharmaceuticals
Braburn Pharmaceuticals is an MAT drug maker from Pennsylvania that dropped a cool $100,000 along with Indivior to support the same bill for easing restrictions on controlled substances.
Braeburn is also developing a competing injectable MAT drug. But back in January, the FDA sent a complete response letter to the company. In the letter the FDA requests more data to be compiled for the therapy. The product was previously recommended for approval by the FDA's Psychopharmacologic Drugs Advisory Committee in November 2017.
As of May 2018, Braeburn announced Phase 3 of testing on CAM2038- the buprenorphine weekly and monthly injectable- had some positive developments. The results we published online in the Journal of the American Medical Association (JAMA) Internal Medicine.
If this MAT drug does get approval, it will be the first and only injectable opioid use treatment that healthcare professionals can administer from Day 1 of patient's treatment.
But let us not forget that each of these injectable MAT drug treatments says they should only be a part of a complete treatment program that includes counseling and psychological support.
Big Pharma Supergroup
That may not be the actual name, but it is essentially what we are talking about. A group of non-opioid pain relief drug makers has also spent hundreds of thousands of dollars on lobbying. This Big Pharma "supergroup" aims to push for legislation that will allow for additional Medicare payment for non-opioid pain drugs. One such drug company is Heron Therapeutics out of California.
Heron alone spent $40,000 from January to March lobbying on the issue of setting rates for post-surgical non-opioid drugs.
Pros and Cons
None of this is to say the MAT drug makers should not support more options for addiction treatment. There should always be support for establishing more comprehensive and inclusive treatment opportunities. In the midst of one of the most devastating drug epidemics in American history, every little bit counts. MAT programs and harm reduction can save a life and give someone an opportunity to get treatment.
But we should also be aware of how much money any drug maker is pouring into the political system in hopes of greasing the wheels of the legislative branch. When the opioid crisis became a major campaign issue, Congress used February's budget deal to authorize $6 billion in spending to address the epidemic. That is what suddenly inspired over 300 drug companies and interest groups to rush to Capitol Hill and lobby.
Overall, the House package is something that many anti-addiction advocates and other lawmakers see as only minor progress toward addressing such a massive public health crisis. Most agree that it is important to take what steps you can. Still, many agree these efforts fall far too short of what is truly necessary in order to make an impact.
These proposals can be a good step in the right direction. MAT drug programs can be useful in giving people a chance at getting off illicit drugs. However, MAT is only one element to treatment. It is not a sustainable substitute. Hopefully, more energy and funding in the future will help create detox and treatment expansion programs. Then more people can get the help they need instead of depending on drug companies to provide them with a temporary solution to such a complex issue.
Palm Partners Recovery Center believes in providing personalized and holistic treatment options. That is why we also offer MAT programs for those in need. Recovery is never one-size-fits-all, and we strive to help each individual find the recovery plan that is right for them. If you or someone you love is struggling, please call toll-free now. We want to help.