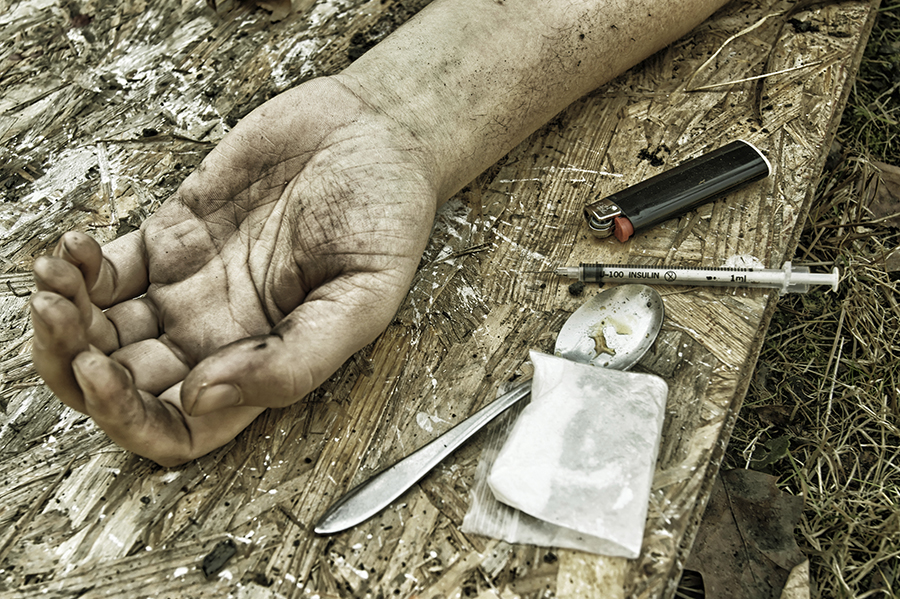 Years ago if you asked the average American what fentanyl was, odds are they wouldn't be able to tell you. Most would probably assume it was some important medical compound found only in hospitals. It almost sounds like the name of some edgy chemical you'd associate with either Breaking Bad or the Unabomber. Sadly, gone are the days of such blissful ambivalence.
Today, America has a more realistic idea of what fentanyl is.
Most adults and young people have at the very least heard the horror stories about this now intensely infamous drug. If you have a television or a smartphone, odds are you have at least glimpsed the headlines. Because in the last few years the devastation caused by this powerful synthetic drug has spread all over the country, and cost countless lives.
Using data from the National Vital Statistics System, researchers have shown an involvement of fentanyl in opioid overdose deaths has quickly skyrocketed:
2010- 14.3% of opioid overdoses involved fentanyl
2016- 46% of opioid overdoses involved fentanyl
With nearly half of opioid-related overdoses, fentanyl is now involved in more deaths than:
Prescription opioids- 40 % in 2016
Heroin- 36.6 % in 2016
More than one drug is commonly involved in many of these deaths. Therefore, in some cases heroin and fentanyl are both accounted for. However, we can see how fentanyl has a growing presence that can definitely be felt, as dozens of thousands of Americans are dying every year due to exposure to this deadly drug.
So if you're still unclear as to what exactly fentanyl is, let us look at how to better understand where it comes from and why it is so lethal.
Pain Medication Origins
Some people were indeed ahead of the curve when it comes to understanding fentanyl because it has actually been around for a very long time. The synthetic opioid is used as a pain medication, and in some cases combined with other medications for anesthesia. It has been used for years by hospitals, doctors, and even veterinarians to treat patients and puppies.
1960- Fentanyl was first created by Paul Janssen
1968- Fentanyl was approved for medical use in the United States
2015- 1,600 kilograms/3,500 pounds of fentanyl were used globally
2017- Fentanyl was the most widely used synthetic opioid in medicine
On its own, the substance typically looks like a white powder. As a medicine, fentanyl is available in a number of forms, including:
Injection
Sublingual
Skin patch
Intranasal
Lozenges
And it may be hard for some to believe, but it's true that one of the deadliest chemicals on the street today can actually be found in lollipop form for medical use.
The drug is such an effective painkiller because it is typically considered to be approximately 75% stronger than morphine for a given amount. However, there are fentanyl analogs such as carfentanil (carfentanyl) which can actually be as much as 10,000 times stronger than morphine. When translated to the illicit drug world, that means fentanyl and its derivatives blow heroin out of the water when it comes to potency and risk.
As a medication, fentanyl can be useful in treating chronic pain patients when utilized correctly. Pre-surgical and post-surgical use of powerful pain management medications is sometimes a necessary step to helping patients recover. In fact, fentanyl patches are on the World Health Organization's List of Essential Medicines, meaning it is considered one of the most effective and safe medicines needed in a health system.
Black Market Poison
Despite the seemingly altruistic intentions behind the invention of fentanyl, it has been used illicitly since the mid-1970s. Now, there are more than 12 different analogs of fentanyl that have been identified as being illegally made and used recreationally. The synthetic opioid is used through:
Smoking
Snorting
Injecting
Taken orally
Some people who abuse opioids do seek out fentanyl. Fentanyl is sometimes sold on the black market after being diverted from legitimate medical supplies. Recently drug manufacturers have also been accused of racketeering in order to boost sales of fentanyl. Even the gel from inside the transdermal patches may be ingested or injected. Those fentanyl lollipops have also made their way into the illegal drug trade.
But a large number of people who end up using fentanyl do it unintentionally. It has been used to adulterate or 'cut' heroin, and it has been pressed into counterfeit pain pills and sedatives sold on the illicit drug market. More recently there has been a rise in overdose deaths among cocaine users involving the drug, which suggests that fentanyl is being heavily cut into cocaine as well.
So why are dealers using it? To name a few reasons:
As mentioned before, it is extremely potent
The drug is very cheap to produce
In China, carfentanil was not a controlled substance until March of 2017, meaning it had been legally manufactured and sold over the internet up until barely a year ago.
While it is a profitable move for drug traffickers, it is a life-threatening variable for drug users. Variations of the compound can be so strong they are incredibly poisonous. Simply breathing air with atomized fentanyl in it, or touching a contaminated surface can kill you.
Fentanyl Overdose
Because of the massive reach of the outbreak, it is important than ever to be aware of the symptoms of fentanyl overdose. These warning signs can include:
Confusion
Dizziness
Difficulty thinking, speaking, or walking
Excessive drowsiness
Frequent fainting spells (nodding off)
Throwing up
Pale face
Blue- or purple-colored lips, fingernails, or extremities
Choking sounds
Pupil size reduced to small black circles in middle of eyes
Low blood pressure
Slowed heart rate
Unresponsive
Seizures
Coma
Difficulty breathing
Hypoventilation (slow, shallow breathing)
Respiratory arrest
Death
Adding to the terrible risk of coming into contact with illicit fentanyl or one of its derivatives is that opioid overdose antidotes like naloxone are not as effective when trying to reverse the effects. Sometimes an individual will require multiple doses of naloxone to be revived, ance revived a new overdose can actually occur when the initial dose of naloxone wears off. It is critical that someone who experiences an overdose received medical treatment immediately.
The nation has been caught up in a growing opioid crisis for years now, serving a shock to the healthcare system and public health officials everywhere. As the death toll climbs and more people are suffering and dying every day it is crucial that we raise awareness and take action to address drug abuse and addiction. One of the essential tools to fighting back is effective and innovative treatment options. If you or someone you love is struggling, please call toll-free now.